Oakworks Spa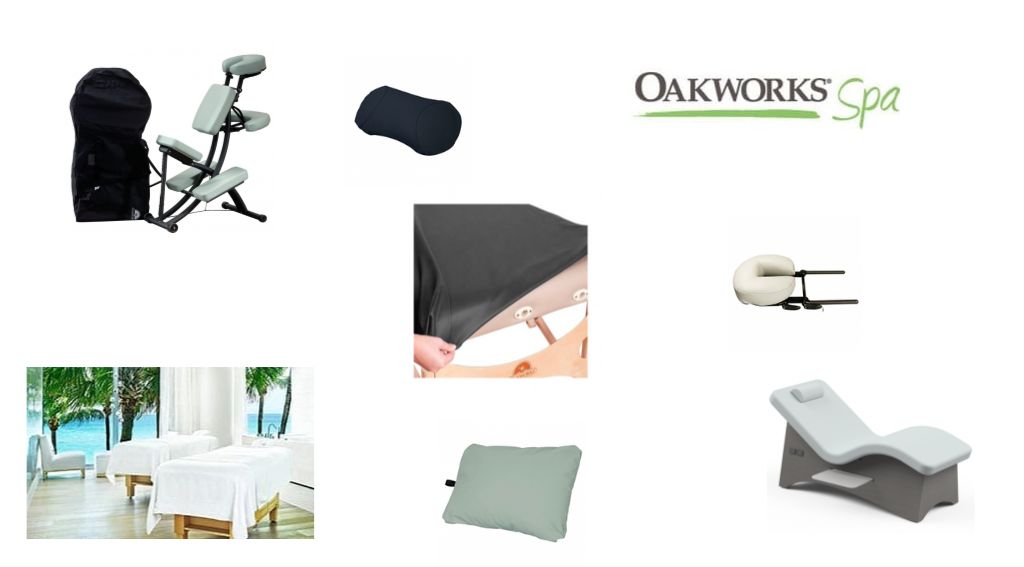 Oakworks has earned its reputation as a trailblazer in spa essentials and massage equipment. With a commitment to quality, innovation, and customer satisfaction, this luxury brand provides cutting-edge solutions that elevate the beauty treatment experience to new heights. At TELLI, we are pleased to offer you the best of the best by this must-have manufacturer.
Spa Treatment Tables
Professional Massage Tables
Luxury Spa Loungers
Spa Essentials & Accessories
The Oakworks Experience: A World Of Luxury & Comfort
When you choose Oakworks, you're not just selecting equipment but embracing an experience of luxury, comfort, and sophistication. Here's what you can expect when you incorporate Oakworks products into your spa, salon, or hotel:
Unrivaled Comfort: A commitment to comfort ensures that every client's experience is exceptional, from massage tables to treatment chairs.
Durability & Longevity: These professional products are built to withstand the rigors of busy spa environments, ensuring longevity and reliability.
Customer Satisfaction: Oakworks products are designed to delight clients and therapists, fostering an environment of relaxation and satisfaction.
Innovative Engineering: A dedication to innovation is evident in the engineering excellence of these products. Each item offers optimal comfort, functionality, and durability.
Unmatched Craftsmanship: Each Oakworks product is meticulously crafted to perfection, reflecting the brand's unwavering commitment to producing equipment of the highest quality.
Customer-Centric Approach: Oakworks values its partnerships with spas, salons, and hotels, tailoring products to suit the unique needs of these establishments.
Oakworks Massage Tables
Oakworks' medspa and massage tables offer unmatched comfort and versatility, providing the perfect platform for indulgent treatments. Save your back and provide the best service possible with height-adjustable or stationary models. Then, get clients in the ideal position for relaxation with manual or electric controls.
PerformaLift Electric Massage Tables
Lift Assist Manual Massage Tables
Marina Wet Tables
Portable Massage Chairs
Spa Treatment Tables
Make the comfort of your clients a priority before the treatment begins with Oakworks' range of treatment tables designed to enhance relaxation during various beauty procedures. Heated surfaces, Bluetooth speakers, custom finished - if any of these has ever been on your spa technicians' bucket lists, get ready to check all the boxes. These tables are eye candy to look at and a treat to use.
Icon Heated Treatment Table
Talise Heated Treatment Table With Storage
Britta Luxury Heated Treatment Table
Oakworks Spa Furniture
Oakworks' essential spa furniture combines style and functionality, offering comfort for both therapists and clients during treatments. Keep clients comfortable while making a big impression with LED lights, pull-out shelving, and optional heating when you stock the Curva Lounger. Our stools are available with or without backrests, and our trolleys keep everything you need right at hand.
Curva Lounger
Spa Stools
Spa Trolleys
Treatment Table Accessories
From bolsters to face cradles, Oakworks accessories enhance the spa experience, ensuring every detail is catered to. Your clients will want to take our Terratouch pillow covers and Bodycurve bolster home. Aerocel padding or Boiance™ water spheres cradle the face and head while technicians or clinicians work the body. You'll wonder how you ever lived without them.
Bolsters & Face Cushions
Pillow Covers & Linens
Table Warmers
Outfit Your Salon & Spa With Oakworks From TELLI
Elevate your spa, salon, or hotel to new heights of luxury and comfort with Oakworks products. For a comprehensive selection of professional spa equipment and accessories, TELLI is your go-to destination.
Our dedication to providing top-notch professional salon and spa products makes us an ideal partner in enhancing your clients' relaxation and well-being. Shop bulk and wholesale with us today to experience the Oakworks difference and transform your establishment into a haven of indulgence and luxury your clients will never forget.