ORDERING & POLICY INFORMATION
FIRST TIME CUSTOMERS
When you place an order with Telli for the first time, it will take just a few minutes to get you set up. We only sell products to resorts, hotels, clubs, spa and salons. We will ask for your resale license if you are planning to sell retail.
Payment Options: credit card, ACH, bank check or prepay by mailing your business check.
E-MAIL SERVICES
With each order, we will confirm your e-mail address. This will ensure you will receive an instant confirmation of your order and delivery/ship date, notification of all sales and e-newsletters as they become available. You can opt out of our e-mail program at any time. If you have an item on backorder we will email you letting you know the item is on backorder, at that point you can let us know if you would like us to ship the backorder when it becomes available or cancel the item. If your company does not accept backorders, we will email you letting you know what items are on backorder so you can submit a new PO. If you would like us to hold your order until all items are available, please let your customer service representative know at the time of order.
METHOD OF PAYMENT
We accept American Express, Discover, MasterCard and Visa. Please have your credit card and billing address when placing an order. Second party credit cards are not accepted. All credit card charges over $1,000 will be charged a 3% service fee.
PLEASE NOTE: For all disputed credit card transactions or returned checks found to be the purchaser's error, there will be a $50.00 fee applied to your account and any discounts provided will need to be paid.
DAMAGES
We make every effort to accurately pick and pack your order. If you encounter a problem, please call customer service (888) 309-2592. Do not sign for shipments until you have thoroughly inspected for damages. Visible damage to cartons must be noted on the freight bill. We cannot be responsible for shipments that are not signed for as damaged. Do not dispose of the box or packaging material until the items have been fully inspected for damages or defects. Reports of visible or concealed damage must be made within 48 hours of receipt to (888) 309-2592.
RETURNS
Full credit will be given for an incorrectly shipped product, within 15 days of invoice. In order to receive full credit, return products unopened and in sellable condition. In case of customer error, a 25% restocking/handling fee* on all regular non specialty items and freight cost will be assessed.
Please Note: any item which is available for return, must be accompanied by a return authorization number. To receive a return authorization number (valid for 30 days after the date of issue); call Telli Industries with the following information:
Telli Invoice number and date.
Product description and item number.
Reason for returning merchandise.
*The following exclusions apply: All sales on Furniture, Equipment, Private Label and Special-Order Items. Any item considered to be a specialty or custom item may not be returnable.
PROFESSIONALS ONLY
We sell strictly to licensed industry professionals, resorts, hotels, clubs, spas and salons. We reserve the right to close any account if we find that it does not abide by our guidelines.
SPECIAL REQUEST
Additional items not found in our catalog may be available. For items not listed, call customer service (888) 309-2592 and you will be notified if we can order the item(s) requested.
BLANKET PURCHASE ORDERS / CORPORATE BIDS
Telli Industries welcomes blanket purchase orders and/or corporate bids to allow you additional savings and the lowest possible price. This method of purchasing also provides price protection for the term of the purchase order or bid. Products without guaranteed pricing may be subject to normal increases due to manufactures increases.
OPEN ACCOUNTS
Corporate accounts may be opened with 30-day payment terms with an approved credit application. Please call (888) 309-2592 for a credit application. Credit is generally approved within a few business days.
MISSING ITEMS
Claims for missing items must be reported to customer service within 48 hours from receipt of your order.
SALES TAX
In states where Telli has a presence, applicable sales taxes will be charged unless the order is for retail. You will need to supply Telli with a copy of your Sales Tax Resale Certificate.
LIST MANAGEMENT
We do not make our customer list for rent or sale.
PRICES
Our large volume purchases allow us to pass savings on to you. Due to the unforeseen manufacturer's price increases or decreases, pricing is subject to change without prior notification.
PRICE GUARANTEE
Our pricing is considered "Best Pricing" however, if you currently purchase some items at a lower price, we will do everything we can to match the price. All custom Furniture & Equipment is quoted on a case by case basis with additional discounts. Please ask for a quote for specific items you're looking to purchase.
MINIMUM ORDER
When ordering with Telli the total sale must meet a minimum of $50.
Telli Industries is not responsible for typographical errors or misrepresented items on our webstore.
SHIPPING POLICIES & SERVICES
The customer always has the option to charge their UPS or FedEx account. Please specify at the time of placing the order. Expedited delivery is available. Please contact your account manager for details. Some exclusions such as furniture and equipment may not apply to these terms.
SHIPPING GUIDELINES
Place your order by 1pm PST and it will ship that day (stocked items only). We will provide you with your tracking number and a copy of your invoice once the order ships. Shipping times for special orders, equipment, furniture and drop ship items will vary. Items ordered together may be delivered separately, so please wait one additional day before calling concerning shortages.
PLEASE NOTE: Visible damages must be reported within 48 hours of delivery. We may ask for an inspection on damaged orders. Additional charges will apply for all residential & rural shipping.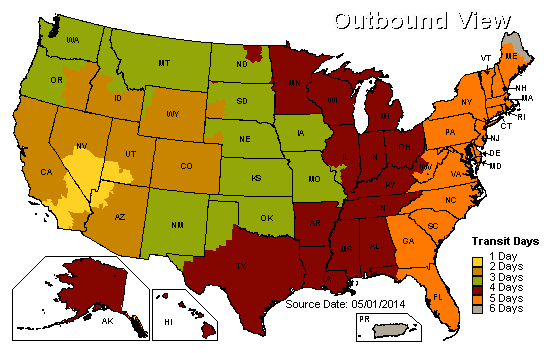 SHIPPING CHARGES - MAINLAND STATES
Shipping charges are determined by actual weight, dimensions and destination of the parcel. You can request to be contacted prior to your order shipping to confirm order total including shipping charges. The customer always has the option to have Telli charge their UPS or FedEx account. Please specify at the time of order.
HAWAII
Parcel / Air
3-4 Days Transit Time
Customer Pays Actual Cost
(Up to 35% less than other carriers)
Pallet Freight
7-14 Days Transit Time

Shipping charges are determined by actual weight, dimensions and destination of the shipment.

Telli can use customer's freight forwarder account or Telli will use its own account and the charges will be applied to the invoice.
FREIGHT DELIVERIES
Freight charges cover tailgate delivery to a commercial address only. Allow extra time for freight deliveries. Tailgate delivery means a truck will pull up in front of your business and open the back of the truck. You are responsible for taking the shipment off the truck and carrying it inside.
The following services are available for an additional fee on truck shipments:
DELIVERY NOTIFICATION
The freight company will call you and schedule a time for delivery.
LIFT GATE SERVICES
The freight company will bring a truck with a lift gate. The truck driver will not carry the item into the business. It is your responsibility to carry the item inside.
INSIDE DELIVERY
The truck driver will help carry the item inside. Inside delivery does not include carrying the item up stairs (carrying the item upstairs is not available). If you do not have a loading dock, you must pay for lift gate service in addition to inside delivery.
REFUSED PACKAGE
All refused or returned packages are subject to a $25 fee with the exception of packages shipped via common carrier (truck/freight) in which actual freight charges are applicable.
MSDS
We will provide free Material Safety Data Sheets for all products currently stocked in your business that were purchased from Telli Industries. To request your MSDS, please email customer service info@telliind.com.
ANTI-DIVERSION
We routinely monitor all orders placed. Unusual quantities or frequent orders of certain products will be held for verification.
OUR MISSION: 100% CUSTOMER SATISFACTION