Barbicide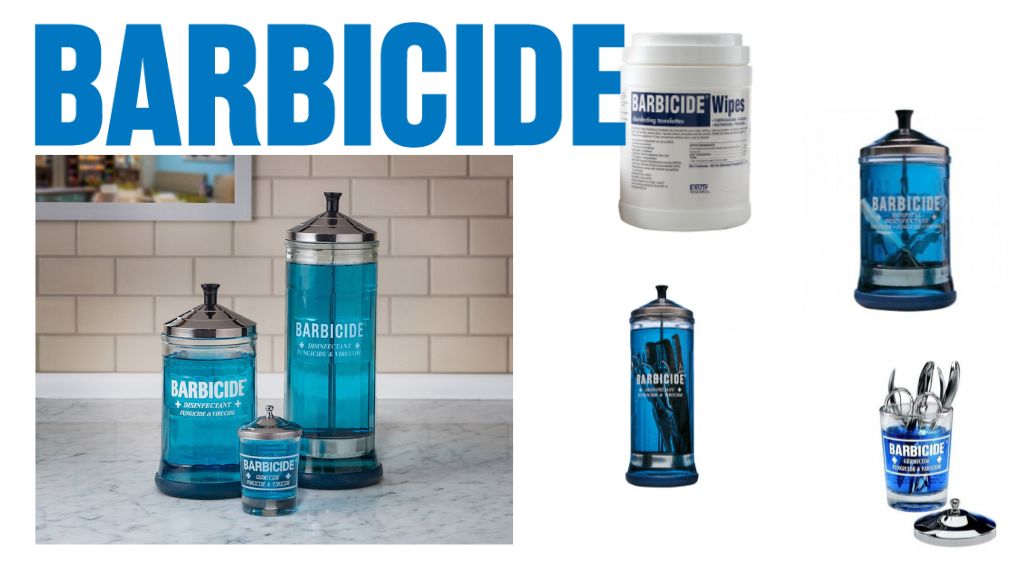 Barbicide products are the gold standard for salon and spa disinfection for good reason. In the beauty and hospitality industries, maintaining a clean and hygienic environment is of paramount importance. Ensure the safety of both clients and staff with Barbicide products from TELLI, your wholesale and bulk beauty supply distributor.
Understanding The Barbicide Brand
Barbicide has been an essential part of the beauty and grooming industry since 1947. Its unwavering commitment to ensuring a clean and sterile environment for salon and spa owners, cosmetologists, estheticians, and clients is what sets it apart. With over seven decades of experience, professionals worldwide recognize and trust these disinfectants.
What Industry Experts Say
What Is Barbicide Used For In Beauty Salons?
Whether it's in beauty school or at your first shop, you're going to hear about this product. So, what is it? Barbicide is used as a hospital-grade disinfectant on non-porous surfaces like glass, metal, and plastic. With this one brand of product, you can easily sterilize grooming tools, such as scissors, combs, and brushes, sanitize various surfaces within the salon, and ensure a hygienic environment for management, staff, and clients.
Types Of Surfaces Barbicide Is Good For
Metal Tools: Effectively sanitize and sterilize metal grooming tools. This can mean hair and nail scissors, cuticle clippers, nail clippers, shears, and clipper blades.
Plastic Tools: Kill germs on hair brushes, combs, and clippers.
Glass Or Plastic Containers: Safely disinfect containers used for coloring or in spa services like massage treatments and facials.
Countertops: Surface wipes can be used on countertops, sinks, and other hard surfaces.
Chairs & Furniture: Wipes can also be used to clean chairs, trolleys, nail stations, massage beds, and other salon furniture.
Our Range Of Barbicide Products
As you can see, Barbicide products are the cornerstone of hygiene and safety in beauty salons and spas. If you want to ensure a clean and sterile environment in your hair salon, barbershop, blow dry bar, nail salon, or spa, consider products from TELLI. These are favorite go-to solutions for top-tier sanitation and peace of mind.
Barbicide Disinfectant - The flagship product that started it all, this iconic blue solution is used to sterilize grooming tools, including scissors, combs, brushes, and razors. It effectively kills harmful microorganisms and ensures that your salon and spa tools remain free of contaminants.
Barbicide Disinfecting Jars - These glass or plastic jars are specially designed to immerse your tools safely for the adequate amount of time. They come in various sizes, making choosing the one that best suits your salon's needs easy.
Barbicide Surface Disinfecting Wipes - For broader surface disinfection, these surface wipes are the ideal choice. These convenient wipes easily clean and kill germs on countertops, chairs, sinks, and other surfaces. They are a quick and effective way to maintain a sterile environment in your salon or spa.
Why Is Barbicide Approved for Disinfection In Salons?
Barbicide's approval for salon disinfection is grounded in its proven effectiveness against a broad spectrum of harmful microorganisms. It meets the rigorous standards set by regulatory bodies and professional associations in the beauty industry, making it a trusted choice for maintaining hygiene and safety in salons and spas.
Your Salon & Spa Disinfecting Questions Answered
What Is Barbicide Effective Against?
Barbicide items are highly effective against a wide range of harmful microorganisms, including bacteria, viruses, and fungi. It provides a comprehensive solution for disinfection in salons and spas, ensuring a clean and safe environment.
Is Barbicide Affective Against COVID-19?
Yes, Barbicide Disinfectant is effective against the novel coronavirus (COVID-19). It has been proven to kill the virus, providing an added layer of protection for salon and spa clients and staff.
How Do I Use Barbicide Products?
Disinfectant Solution: Mix the appropriate ratio of disinfectant solution with water as per the instructions on the label. Immerse the grooming tools in the solution for the recommended duration to ensure effective disinfection. Once mixed, you can also fill a spray bottle to apply this product.
Disinfecting Jars: Fill the jar with the disinfectant solution and immerse the tools. The jar's design ensures proper immersion and disinfection.
Surface Disinfecting Wipes: Remove a wipe from the container and use it to wipe down surfaces that need disinfection. Dispose of the used wipe properly. Two wipes are best, one to sanitize and one to disinfect the surface.
Order Barbicide Products For Beauty Professionals
We are your one-stop destination for all things bulk and wholesale when it comes to beauty supplies. Catering exclusively to salons, spas, and bulk buyers, TELLI offers an extensive selection of Barbicide products. For more information on pricing and ordering, log in with your professional account or give us a call today.